AAUW of Colorado branches are working to achieve "stars" as part of the Five-Star National Recognition Program. Below we include letters that branches have received in recognition of their achievements.
Aurora: One Program Star
Longmont: One Public Policy and Research Star
---
The Fall Leadership Conference is an annual event orchestrated by the state organization. Leaders throughout the state meet in the Colorado area to address strategic planning and team building. 
2020 Fall Leadership Conference Webinar was held on September 12, 2020. Speaker videos are available as follows:
Keynote Speaker, Dr. Dena Samuels, with Moderator, Susan Brodie, Presenting "Mindfulness-based Diversity, Equality, and Inclusion"
Laura Segal, AAUW Senior VP of Communications and External Relations, speaking on "2020 Vision: Fighting for Equity"
Copy of Slides for Laura Segal
Membership Matters Workshop featuring Paula Munger, AAUW of Colorado President and Colorado Springs Branch member, and Melanie Hudson, VP Membership Colorado Springs Branch
Announcements featuring Jill Smith, AAUW of Colorado Membership VP, and Betty Boyd, AAUW of Colorado Public Policy Committee
Photos from 2019 Fall Leadership Conference: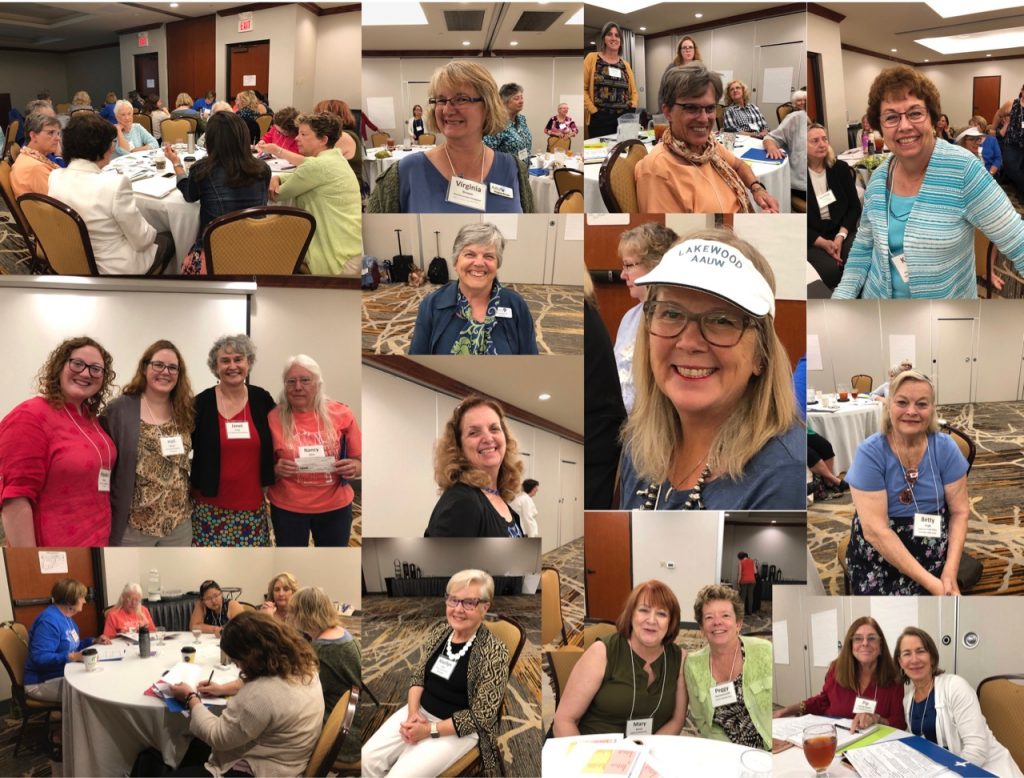 ---
AAUW of Colorado and its branches yearly send young collage age women to the National Conference for College Women Student Leaders (NCCWSL). Both the state organization and branches offer scholarships to assist young local women in attending the conference. 
Annessa Bryant (NCCWSL Scholarship Recipient — Colorado Mesa University)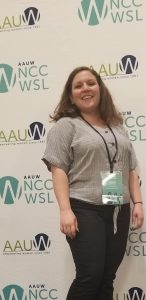 In 2019, Annessa Bryant was selected as a NCCWSL scholarship winner by AAUW of Colorado. Annessa attended the conference May 29 – June 1, 2019 at the University of Maryland, in College Park. She is currently finishing her BS in Accounting at Colorado Mesa University. She is President of her college AAUW affiliate, and active in the Grand Junction Branch. Colorado members had a chance to meet Annessa when she attended Fall Leadership Conference in 2018 and State Convention in 2019. Her outgoing personality and positive attitude were apparent at both events and made her an exceptional representative of AAUW of Colorado.
---
AAUW Colorado Legacy in Leadership Award is given biannually to an AAUW Colorado member for contributions to AAUW's mission and leadership at the branch, state or national level — or a combination thereof with emphasis on contributions at the state level. Awardees from 2018 are as follows: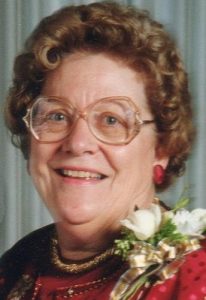 Elaine Gardner (Legacy in Leadership – Posthumous)
From Betsy Loague's nomination: "Elaine dedicated her life to AAUW, through her work at the legislature and in supporting educational issues. At the Branch level she held most positions except president. She supported all branch activities and worked hard in Foothills' final years to keep the branch functioning. The article in the Colorado State Bulletin, Winter 2017, best describes her AAUW involvement. I am aware we have not awarded this award posthumously but Elaine certainly deserves consideration." Click here to view Elaine's digital memory book, which the Executive Committee shared with Elaine's children.
Amy Bla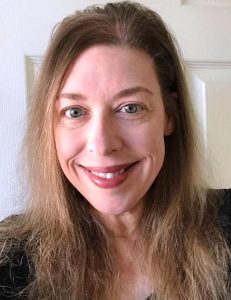 ckwell (Legacy in Leadership)

From Jill Smith and Barb McDaniel's nomination: "Working with Amy Blackwell for the past 11 years in AAUW activities we see that she embodies the mission – advancing equity for women and girls through advocacy, education, philanthropy and research. Her non-partisan advocacy work is well documented at the national, state and branch levels. Amy brought the goals and values from her AAUW work with the UN to all 13 branches in Colorado, of which she is a member! As the state's website manager and Facebook page manager, Amy has developed ways to inform and educate our members as well as to attract others to AAUW Colorado and Branch activities. She is a mentor and guide who skillfully communicates and reaches out to members to participate and be involved in education. She teaches AAUW's $tart $mart and Work $mart Programs. Amy, a member of AAUW's Legacy Circle, is a generous and persuasive donor. She 'walks the talk' as an example and inspiration for philanthropy. Her leadership and management skills have brought changes to the structure and focus for state and branch programs and activities. Guided by research, Amy has encouraged branches to understand changing societal trends and how to address them in practical ways.Knowing Amy Blackwell personally we appreciate her friendship and dedication to making a better world. Even 'outside' of AAUW she advocates for a safe and just world for women and girls. She embraces global issues through her professional activities and personally funds initiatives. Amy offers book suggestions that have influenced her, shares her wonderful sense of humor and demonstrates the value of time for reflection and renewal." Click here to view Amy's digital memory book.